Protection from Home Invasions
If you or your children happen to be home at the time of a home invasion, the innovative and versatile Vortex Vault Storm Shelter Bed, as seen on ABC's Shark Tank, is an immediate Safe Room. It doesn't even need to be raised. Simply open the door to the under-bed space and crawl into safety. It can even be locked from the inside, keeping those with criminal intent out. This Shelter Bed protects from much more than storms.
Statistics of Home Invasion 
Home Invasion is defined by any unlawful entry into the home with intent to steal or do harm. Over three million homes are broken into per year. That's seven per minute. Of course, there can be a Home Invasion with no one home. However, the Department of Justice reports one million burglaries occur with people at home; twenty-seven percent of those are victim to violent crime: 41% involve firearms, 7.8% involve knives or cutting devices, and 42% use strong arm tactics such as verbal or physical threat. The FBI reports that 1 in 36 homes will be robbed.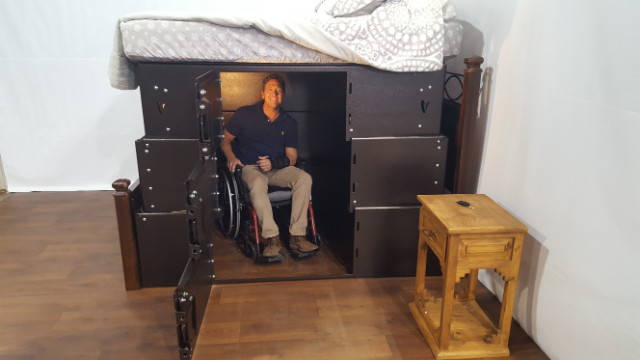 Multi-Purpose Safe Room
The Vortex Vault Storm Shelter Bed protects from EF5 Tornados, hurricanes, earthquakes and Home Invasions. It is well worth the investment to secure your family's safety in any or all of these threats. When children are home alone or in your care, there is no safer place for them to be than under the bed in this FEMA tested and certified safe space. It is hidden out of sight under your bed until needed. You can help your family be confident and prepared through seasonal drills to quickly enter the safety of the Vortex Vault Storm Shelter Bed. One single drill will have them ready for multiple threats of tornado, hurricane, earthquake or home invasion.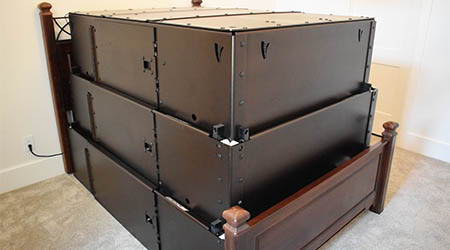 Easy Installation
This multi-purpose Shelter and Safe Room is designed to withstand cars being dropped onto it, along with 250 MPH winds and damage from projected objects. Our crew comes to your home to install it under your bed. It is securely bolted to the cement slab, has ventilation, a USB port so you can stay connected while safely inside and a battery backup in case your power goes out. Contact us today at Life Lift Systems to learn more. We are committed to keeping you and your loved ones safe.