Life Lift Systems Welcomes Shark Tank's Mark Cuban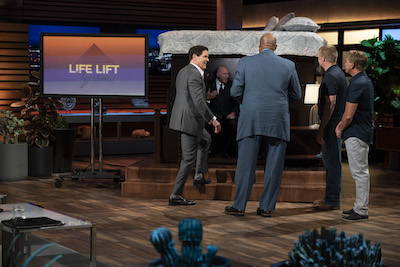 In case you didn't get to see us pitch our FEMA tested and certified Under-Bed Tornado Shelter on ABC's Shark Tank, you can check it out on ABC.com. Life Lift System is proud and honored to welcome Shark investor, Mark Cuban, to our company. Mark lives in Texas and owns thriving NBA's Dallas Mavericks. As a Texan, Mark knows first hand the devastation to life, property and communities that can happen quickly in Tornado Alley. Mark knows that seconds count when a tornado approaches or a home invasion occurs; and that the very best place to have a safe room is inside your home for quick access. That's just one of the reasons we are glad to have him believe in our innovative life-saving shelter and in us.
Mark Cuban knows a great product and business when he sees it. His history and his success in investing in entrepreneurship is known and respected world-wide. He wasn't born in a financially successful family. At the young age of twelve, he wanted a new pair of expensive basketball shoes which shows his life-long love of basketball and sports. He didn't just wait for someone to give them to him. He went to work selling garbage bags in order to buy them himself. The spirit of free enterprise was born and has been flourishing ever since. His line up of businesses continues to grow. Just glance at the diversity of companies Mark has invested in at MarkCubancompanies.com. We are honored to be one of them! Anyone who wants to learn more about entrepreneurship would be wise to read Mark's book How To Win at the Sport of Business. He continually shares a lot of insight and wisdom through his Blog Maverick. A huge welcome to Mark Cuban!
Levi Wilson, Tim Todd and Mark Cuban are dedicated to saving many lives together with our ever-growing team through Life Lift Systems. Check out the videos of testing and the quick accessibility for anyone to get to safety with our Vortex Vault Tornado Shelter Bed which is hidden under your bed until needed. That's what made Mark Cuban a believer. We hope to provide this innovative safe room for you, as well.